(G)I-DLE on What it Takes to Build an Unconquerable Queendom
The K-pop hitmakers laid the foundation of their artistry in 2018, and are now ready to take over the world with their distinct storytelling style
This cover story appears in Rolling Stone India's K-Music Special Issue, on sale now. Buy your copy  here. ((G)I-DLE's cover included inside the issue)
Dressed down in comfortable attire, the members posed from a conference room at Cube Entertainment with an assortment of snacks and beverages spread on the table. Leader Soyeon looked poised and balanced as always with her straight, jet-black hair running down a loosely fitted jungle-green shirt. She's engrossed yet attentive, passing the snacks around while simultaneously typing away on her phone. Seated on her right is Yuqi who, along with her puffer-jacket twin Minnie, turns the mini-break into a quick catch-up session. Miyeon and Shuhua, though seated at opposite sides of the table, seem to share the same mindset as they intently browse through the sheets of paper with our questions in front of them. Perhaps this is what happens when you spend the better half of a decade growing up with each other; you form a deep-rooted connection through your actions and decisions in one way or another.
As the members dig into the foiled packets of sweet and savory treats, I can't help but wonder if this interview has unintentionally interrupted their mealtime. "No, you're not," Minnie warmly laughs into the microphone mounted on the table, assuring me that I was not interfering with their dinner plans. Yuqi quickly nods in agreement with her pink-dyed pigtails matching the inertia of her neck movements.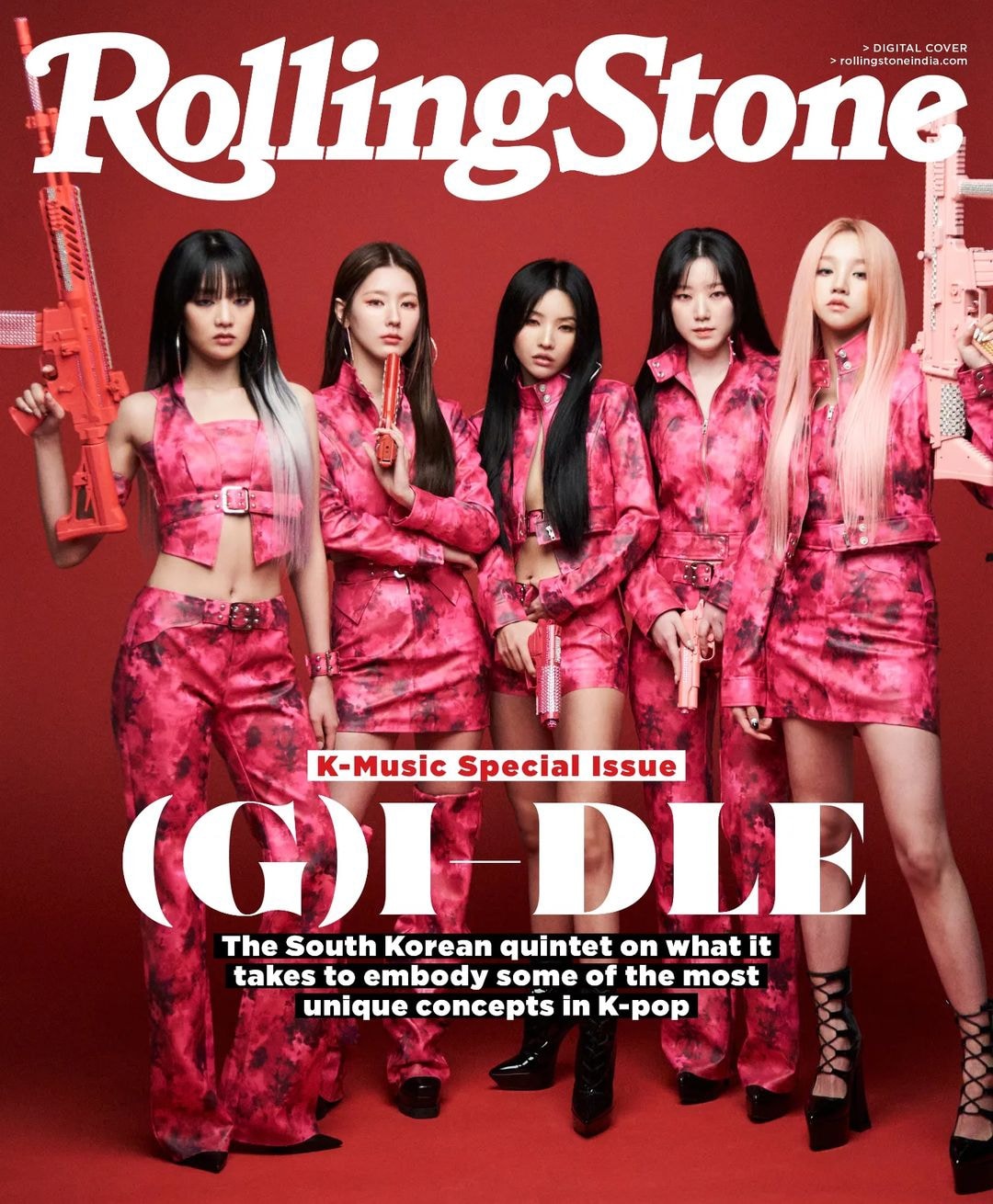 Our chat takes place a few days after the quintet was crowned as the first idol group to hit a perfect all-time kill on local charts this year with their first studio album, I Never Die. "It was not something we'd necessarily set out to achieve, but it was one of the goals we'd hoped to achieve," Soyeon comments, adding, "It still feels very unreal to us but we're grateful for the love we've been receiving." Minnie pipes in, "We were so surprised! I couldn't sleep that night."
Led by the pop-rock anthem "Tomboy," I Never Die was (G)I-DLE's grand return to the spotlight after a year-long hiatus from group activities. While group activities might have taken a back seat, the members kept the learning arc sharp with a handful of solo activities; leader Soyeon made her solo comeback with her EP Windy, while Miyeon dabbled in various roles as an MC and DJ. Yuqi's schedule was packed with promotional activities in China for her solo debut with the singles album A Page. Minnie returned home to Thailand while promoting her Netflix sitcom So Not Worth It and Shuhua, too, flew back to her home country, Taiwan. "The first thing we did was record the album. We actually reunited in the recording studio," recalls Soyeon when asked what was the first thing the quintet did upon reuniting after nearly a year. "We said 'hi' to each other in the studio," Minnie continues, adding, "but had a party after the recording process was wrapped up."
Comprising eight tracks, the quintet's first studio album is primarily helmed by Soyeon whose tremendous contribution to songwriting and production has been the norm since the group's debut. Creative involvement, however, does not stop with the leader – fellow members Minnie and Yuqi have also added to the LP with Minnie composing "Already" and "Escape," and Yuqi working on "Liar" and "Polaroid." While the album fuses a mix of genres ranging from an emo-teen rock anthem ("Never Stop Me"), electro-pop ("Villian Dies"), R&B-pop ("Already"), R&B ("Polaroid"), dreamy pop ("Escape"), rock ("Liar") and hip-hop ("My Bag"), the album's lead, grimy pop-punk single "Tomboy" caused quite the stir upon its release. 
Seeped in soaring guitar riffs and powerful drum beats, the track discusses breaking free from societal molds of a 'perfect' and 'nice' girlfriend: "What's all the frown on your face/ Do you want a blond Barbie doll?/ It's not here, I'm not a doll." Empowering, confident and unapologetically rebellious, "Tomboy" served as a perfect introductory chapter to the quintet's revamped perspectives and maturity. Denoting Barbie dolls as the epitome of perfection, (G)I-DLE extends this symbolism throughout the track not only in a lyrical capacity but visually too through gripping, stop-motion-driven video sequences. "I think the song ['Tomboy'] has been performing well because it talks about our story," explains Soyeon. "We didn't necessarily think that it would do well but sincerely wished for it. The cut-throat attitude could be another reason too. Overall, we're just really thankful for the support and appreciation."
Symbolism is a staple in (G)I-DLE's discography. Like buttery popcorn at the movies or eggnog on Christmas nights, (G)I-DLE's discography would be incomplete without deep symbolism and metaphors. Take for instance their 2021 single "Hwaa" from the EP, I Burn. A homonymous Korean term translating to 'fire' and 'flower,' "Hwaa" was (G)I-DLE's second break-up song addressing the need to burn away any resentful emotions that may linger after a break-up: "I'll untangle hann and enjoy spring again/ All the memories I'll burn to ashes/ From which brilliant flowers bloom." 
The quintet visually represents the journey of thawing these cold emotions to welcoming hope and a second chance at love through three carefully curated symbolic sets. Drawing a parallel between winter and loneliness, the group opens the music video on a winter-inspired set. Cold, empty and lifeless, this chapter of the video symbolizes the loneliness that creeps in after the death of a relationship. Employing the literary symbolism of hope through flowers, the sophomore chapter sees the group slip into floral ensembles and perform delicate choreographed moves in front of a backdrop inspired by a lush floral field at dusk. Finally, the concluding chapter ushers in sentiments of resurrection as (G)I-DLE wraps up the track on set inspired by the warmth and ferocity of a fire. The chronological advancement from winter to bloom and fire effortlessly symbolizes the journey of a heartbroken person who gradually opened up to the idea of love again.
Explaining her love for symbolic writing, Soyeon explains how literature played a huge role in shaping her as one of the industry's mightiest songwriters. "I was like the bookworm of the class in school," she explains. "That naturally influenced me. Even today, I try really hard to read three to four books per month. It's part of my daily routine – just like watching animations and reading books is a part of me." Curious to know what book is keeping her engaged at present, I ask the 23-year-old rapper about her current literary choice. "Right now I'm reading The Midnight Library. It's a best-seller in South Korea." Surprised, I let her in on how I too have had Matt Haig's afterlife-inspired bestseller on my bed stand but haven't moved past chapter 15 yet. "It gets fun later on," Soyeon says, without giving away too much.
Like Haig, whose work oscillates between varied themes catering to adults and children, (G)I-DLE's conceptual universe is fluid, free from the limits of an overarching story driving the group forward. This is one of the many aspects that sets (G)I-DLE apart from other K-pop acts. While having a central concept has become a common trend in K-pop, (G)I-DLE embodies every comeback through compelling concepts that have never been executed by the quintet or any other group before. "I like the idea of having theories and universes," Soyeon remarks. "But for my team, I hope the term '(G)I-DLE' can be the universe and narrative. I would like people to follow our narratives and stories when they look at us."
The next couple of minutes are solely dedicated to laying the building blocks of a hypothetical alternate universe and the storylines the group would like to explore. For Soyeon, her universe is as beautifully human and complex as her writings; "If I were to build a universe I would center it around the stories outlining the growth of leaders in a revolution." Yuqi chimes in, "I'm a huge fan of Marvel movies. If I could be any superhero from that universe, I would like to be Black Widow or Captain Marvel." Minnie turns the microphone around to herself before revealing her favorite Marvel superhero. "I would choose the powers of Dr. Strange. I can't wait to watch it!" After a few more minutes of alternate-universe oriented banter and laughs, the conversation steers toward serious realms with Yuqi making an important point about realistic expectations and strategic decisions. "I think we are still a little bit young to build a universe, but we are moving [in that direction] in the future; maybe we can have a universe but for now, it's too early."
As Yuqi began her explanation, an idea maneuvered its way into Minnie's mind prompting her to immediately straighten up. "Oh, I just got an idea," Minnie exclaims right after Yuqi laid out her points. "It just popped up in my head. I would like to have the power to be the trendiest group in the world. No, the trendiest group in the universe." As a resident of Earth, I for one can attest to the fact that (G)I-DLE is 'the trendiest group in the world.' As for the universe, we'll probably have to rope in The Avengers to spearhead the data collection for this research.
The brief digression during the chat was a fitting example of the creative voices that constitute the group. Given their natural flair for storytelling and Soyeon's love for literature, it is only natural to wonder how the quintet narrows down the concepts for their comebacks and the motifs they reference. "There are a lot of things the team uses as references and our concepts are usually born from a combination of multiple references," Soyeon explains. As for what areas (cinematography, choreography, costumes, etc) require a larger degree of attention, Soyeon recalls the approach and focus being different from time to time. "It really depends, but we try to focus on what will surprise people and what people will find new. On the other hand, for music videos, the cinematography is very important but we also make sure our videos have an underlying hidden storyline and hidden points."
(G)I-DLE's 2020 single "Lion" drives Soyeon's point home beautifully. Produced and written by the rapper herself, "Lion" is centered around female empowerment and crushing societal restrictions enforced upon women; " I'm a lion, I'm a queen/ No one, yes/ Oh no one can tame me." True to (G)-IDLE's knack for symbolism and metaphors, the video opens with Minnie confidently seated on a pedestal surrounded by arrows, exemplifying the failed attacks targeted towards her. As the video progresses, we are made aware of many such instances where an attempt was made to contain or rather control the lion. From Soyeon delivering a powerful performance behind bars, to (G)I-DLE's former member Soojin displaying her scars to the constant switch in aspect ratios to mimic Instagram's 1:1 dimensions and the shackles maintaining a perfect online image entails, "Lion" is a 21st-century woman's response to patriarchy and archaic expectations imposed on them even today. 
Despite the scars they've endured, (G)I-DLE defies societal expectations, ascending to their rightful position of a queen – a sentiment lyrically brought out in Soyeon's rap; "I create a new path no one has attempted before/ All those condescending people will click their tongues/ But the applause I receive after breaking that prejudice is thrilling/ I've had a taste, now I can't deny it/ I'm a queen."
A higher degree of attention further reveals more hidden points, for example in the chorus that sees the group perform in plain, nude-toned ensembles with no flashy accessories and makeup as opposed to trendy, vibrant attires. This could be the group's response to stepping out of the norm that demands female idols to dress and look visually appealing at all times. On the other hand, the group is surrounded by an all-female dance crew during their choreographed sequences. At one point in the music video, Shuhua is surrounded by female warriors armored with shields, reiterating that women must protect one another rather than tearing each other down – after all, empowered women empower other women.
"The story of our music videos primarily focuses on the lyrics of the song," Soyeon says, explaining the process of incorporating nuanced details into their music videos. "We then discuss the points with the video producers and label to help create a video that is very 'idol'-like and yet fairly addresses what (G)I-DLE wants to talk about."
Due to the varied nature of their stories and diverse genres, defining (G)I-DLE's discography is challenging. However, if one were to put their tracks in a Venn diagram of adjectives, the group's discography would find its way right at the center of empowerment and resilience – two themes that gleam the brightest within their growing catalog. "The key is having a solid opinion and not giving in or being wavered by external [societal] factors," Soyeon conveys. "We think it's important to constantly do it [overcome societal norms] over and over again rather than doing it just once and giving up. If you keep proving your worth to people, they will eventually grasp and respect it." Soyeon also recommends their track "Lion" as a source of inspiration and power to those challenging societal norms on an everyday basis.
Like "Lion," their latest single "Tomboy" shares sentiments of individuality and courage. "The title 'Tomboy' came from an idea that the word reflects the team's colors very well," explains Soyeon. "The 'G' in (G)I-DLE stands for girl and we've always wanted to get rid of it, and since the term 'tomboy' refers to a boy-like girl, we thought it best represents the situation." She continues to dissect the term deeper, revealing her nuanced understanding of gender identity, saying, "When you look up the word 'tomboy,' the definition is a boy-like girl. But I thought, 'What does a boy-like girl or girl-like boy mean?' Those standards don't exist anymore." She adds, "If you look at the lyrics of 'Tomboy,' it talks about not wanting to fit into the mold for a woman created by someone else. I'd rather be a tomboy, and that's the idea that helped us craft the track."
Soyeon, still on the subject of "Tomboy," reflects on the song's messaging and what the group expects the fans to take away from it. "'It's just me, IDLE' – that's the overall message of 'Tomboy,'" the rapper points out. "We don't want to conform to any societal expectations and that's the message we want fans to take away from the track."
In many ways, I Never Die can be described as a cinematic experience narrating the story of five protagonists embarking on a transformational journey. It's a journey where the antagonist (societal expectations) tries its best to throw every curve ball possible, but thanks to (G)I-DLE's elevated confidence and resilience, they not only dodge each curve ball like a pro but grab and smash it the second it threatens their independence. So what real-life superpowers do these protagonists bring to the table both on and off-screen?
Clad in a mustard-colored crop top and white jeans with her soft, wavy hair tied back in a half bun, Shuhua opens up after just observing the proceedings for a prolonged period of time. "I pick justice and being cool in the face of challenges," she confidently responds. For Yuqi, her biggest strength lies in her perseverance. "I'm pretty solid on not falling apart easily," she says. Miyeon – who, like Shuhua, has remained quiet yet observant throughout the interview – also makes her choice. "I pick negotiation," the singer replies, tucking loose strands of her hair from the neatly tied bun behind her ear. Miyeon looks effortlessly ethereal in a bright-green loose-fit sweater. "When faced with a problem, I'll take a different approach from others to solve it."
While these traits fit their personalities like a glove, as a group, (G)I-DLE's biggest superpower would undoubtedly be their ability to empathize with the triumphs and woes of today's generation and translate those into articulate, heartfelt verses for tracks. Anyone can write, but very few writers hone the power to impact, influence or comfort someone with their words.
We move on to break down their first studio album in detail. "I relate to 'Polaroid' the most," Miyeon shares. "We were on a hiatus for a year and I thought I should really appreciate every moment of my life. This thought really resonated with 'Polaroid.'" Written by Yuqi, "Polaroid" is one of the laid-back sentimental tracks on the album, capturing the bittersweet emotions of fleeting memories. Dedicated to her bandmates-turned-family, Yuqi expresses her desire to keep the group's child-like innocence alive: "Take out the polaroid/ We shouldn't forget this, please remember/ In our picture, that smile at that time/ Let's make a funny face."
"I wrote this song last year when I was in China," Yuqi recalls. "I was alone without my members and I was working really hard – which I am okay with, but sometimes I feel alone and just want to look back at the moments in my life. I wanted to send a message to the audience that sometimes we can stop ourselves. We don't need to be busy and in a rush at all times. It's okay to cherish and enjoy the moments you've had. In my case, I want to cherish the memories linked to my ambitions, our debut and so on."
Just a few weeks back, the quintet celebrated their fourth group anniversary on May 2nd. Needless to say, it's been an eventful four years for (G)I-DLE. From taking over the industry with their unique concepts, being celebrated for their iridescent vocal colors to gaining well-deserved recognition for being one of the few female idol groups that take charge of their artistry, (G)I-DLE has done it all and will continue to embark on their creative odyssey with a mightier attitude. "From trying new things, meeting new challenges to working as a team, I've learned a lot," Miyeon reflects. "While I appreciate these opportunities and experiences, I've also learned that sometimes, it's important to let things go."
Yuqi takes the baton from Miyeon: "For me, after I debuted, I made a life slogan for myself which reads, 'Always be proud of yourself.'" Continuing, she sheds light on her responsibilities as an artist and what it entails: "As an artist or even a person, I think once you lose confidence, you lose the world – at least that's the case for me. Even though I have a lot of topics in my heart, I can't show them. I have to first become confident [myself], only then will the world see me as a confident person."
Minnie's learning in the past four years underlines the very real impact of living a fast-paced life, where events and memories are simply acknowledged but never experienced. "Something I've learned is appreciating things that you have right now," the vocalist comments. "Appreciating the moment, the situation or enjoying the events happening currently is very important. We tend to achieve our goals and immediately start thinking or aiming for the next one and in doing so, we forget to appreciate things that we already have. I think we should enjoy the events that are happening right now more."
For Shuhua, the past four years have taught her just how timeless growth and learning are. "There is no end to the growth of a person," the singer states. Opportunities and adventures will always find their way into your life. Also, since I have pet dogs, I've learned to be more responsible."
With the past and present summed up, it's now time to look into the bright future that lies ahead for the group. "As far as (G)I-DLE goes, our goal will always be to make music that we want," Yuqi reveals. "We experienced a lot of things last year and hence believe this is the biggest goal for us. Even in the future, I just want to be with my members and make the music we want."
The world definitely needs more of (G)I-DLE and it's reassuring to see that Soyeon, Shuhua, Miyeon, Minnie and Yuqi don't plan on stopping anytime soon.
Tags: