K-pop Exhibits Pop Dominance in the 2021 Edition of #OnlyOnTwitter
From BTS to BLACKPINK, EXO and ENHYPEN, K-pop extended its pop dominance on the micro-blogging site
It is no secret that K-pop is steadily becoming a household name in India. From artists such as BTS and Lisa featuring on IMI Charts to conversations around K-pop breaking into the mainstream space, even primetime news slots, the growing prominence has created waves in a country that houses the second-largest film industry in the world, with a dedicated fan following of its own.
Taking its dominance to the online world, micro-blogging site Twitter reported several K-pop acts to be some of the Most Tweeted About topics. Accompanying them were homegrown artists such as A.R. Rahman, Lata Mangeshkar, Armaan Malik and Chinmayi Sripaada who set records of their own.
"There has been a nearly 23 percent increase in the number of tweets about K-pop," comments Cheryl-Ann Couto, Partnerships Manager at Twitter India. "There were nearly 7.5 billion global Tweets about #Kpop between July 1st, 2020 and June 30th, 2021 compared to 6.1 billion during the same time between 2019-2020," she adds. Last year, the number of tweets around #Kpop were at an impressive 6.7 billion.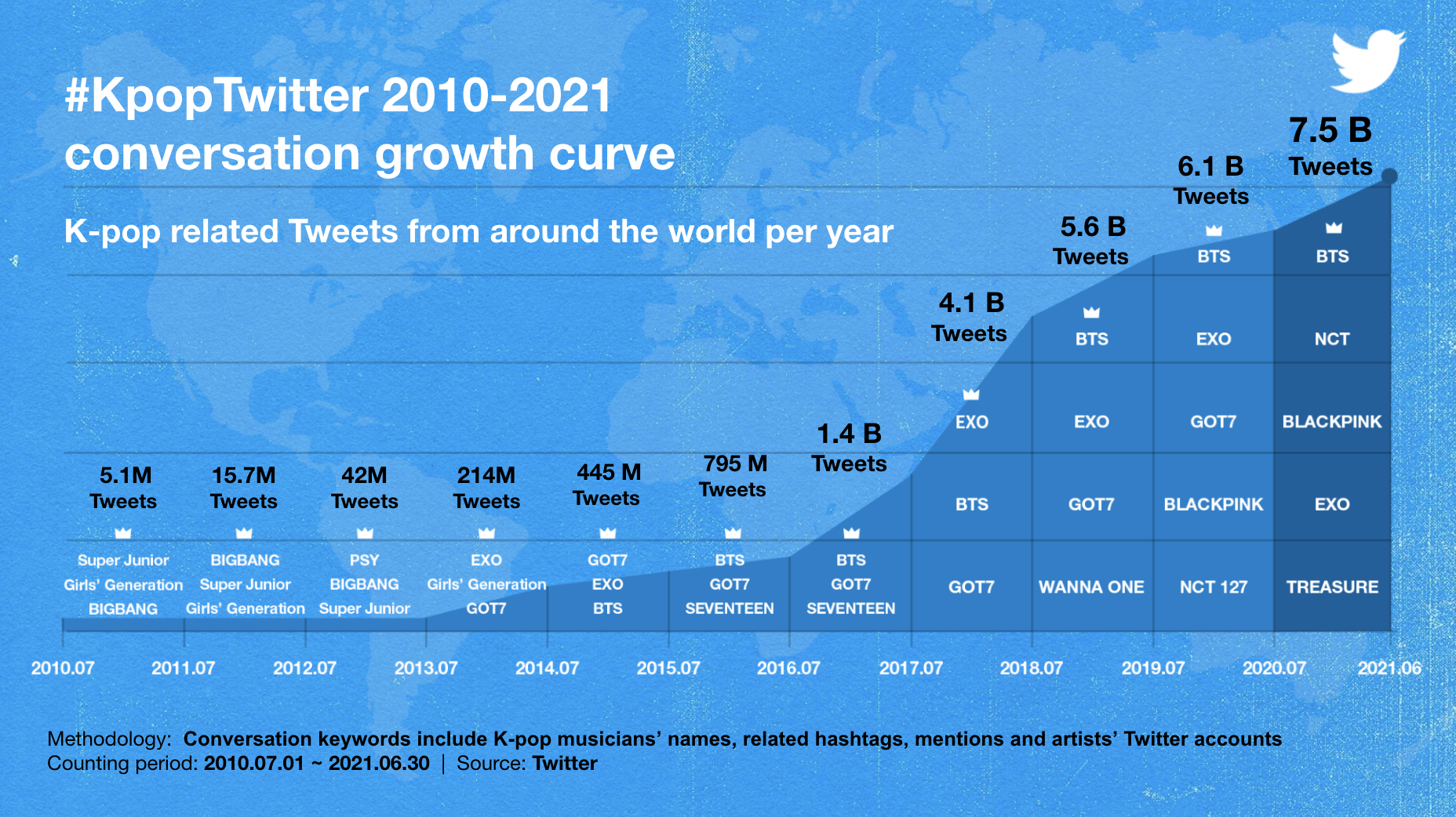 Based on the total number of retweets and likes by Twitter accounts in India between January 1st and November 15th, 2021, pop titans BTS ruled music conversations. Group member Jimin's tweet updating the BTS ARMY about his new haircut became the Most Retweeted Tweet in music conversations. The crown of the Most Liked Tweet also went to BTS with Jimin and Jung Kook's airport outfit update right before the group departed for New York to deliver their address and performance at the United Nations General Assembly. 
This has certainly been an exciting year for K-pop fans as they dominated Twitter India's Most Tweeted Hashtag in the music category. Once again, the septet reigned over the category with #BTS securing the number one spot. #BBMAsTopSocial and #iHeartAwards followed next after both awards opened their online voting process, which required fans to include the hashtags to vote for their favorite artists.
K-pop's biggest girl group BLACKPINK comes in fourth, followed by ENHYPEN. While Blinks (BLACKPINK's fandom) steered the conversation around the group's fifth anniversary and the theatrical release of BLACKPINK: THE MOVIE, Engenes (ENHYPEN's fandom) celebrated the group's stellar musical releases this year and also wished the group a speedy recovery from Covid-19. 
The Most Tweeted About Song category was a BTS-only affair with #BTS_Butter, #PermissionToDance, #Dynamite and #MyUniverse occupying the first four spots."Butter" marked yet another milestone in the group's career, earning them their second Grammy nomination and a nine-week run at the Billboard Hot 100 charts. "Permission To Dance" helped the outfit spread a message of hope and joy in an inclusive manner with the use of ASL choreography. The BTS ARMY celebrated the first anniversary of the group's highly successful all-English single "Dynamite" and their iconic collaboration with British rock group Coldplay on the historic single "My Universe." 
K-pop hitmakers EXO secured the fifth spot with the lead single of their latest album, #Dont_Fight_The_Feeling. Marking their ninth anniversary, the group released a special album for their fans, with Chinese vocalist-producer and group member Lay Zhang participating in the South Korean comeback after five years.
Attesting to their unshakable influence in India, BTS is Twitter India's Most Tweeted About Music Artist of 2021. Their slew of successful releases, philanthropic activities, records (newly created and broken) and conversations with their fans have kept the ball rolling in the group's favor.
Indian singer Lata Mangeshkar was the second Most Tweeted About Music Artist. The music fraternity and her legion of fans came together to celebrate the legendary vocalist's 92nd birthday, securing her the silver spot.
Oscar-winning Indian music composer A.R. Rahman came next, generating interesting conversations on the micro-blogging site around his artistry and ventures in the NFT space. Pop icon Taylor Swift and India's very own pop star Armaan Malik secured the fourth and fifth spots, respectively. While Swift took over the world of pop by storm with the release of Red (Taylor's Version) and Fearless (Taylor's Version), conversations about Malik brewed around the release of the multi-starred collaborative track "Echo" alongside EDM producer KSHMR and K-pop superstar Eric Nam. 
There is no doubt that fans drive a majority of the conversations around their favorite artists on Twitter. This is especially true for K-pop fans who have time and again proven their digital dominance when it comes to promoting and celebrating their favorite artists.
"Fandom communities fuel the spirit of Twitter — coming together in conversation around what they deeply care about," Couto says. "Music fandoms, especially the #KpopTwitter community has over the years made a home on Twitter. While BTS ARMY drives a lot of the conversation, other fandoms including Blinks, EXO-L (EXO fans) and others aren't far behind. Such is the popularity of these fandoms, that we've actually introduced dedicated Twitter Topics for some of these — so fans can follow what's happening within the fandom with even more ease."
Diving deeper into the dynamics of fandom culture, Couto reflects on K-pop's "staggering growth" on Twitter, highlighting five standout trends from the past years. "BTS has dominated this space on Twitter for half a decade and their influence only grows year on year," she comments, right before mentioning BTS Jung Kook's image as the second-most-liked tweet of the year, second only to the US President's inauguration Tweet. 
Couto fleshes out the K-pop fandom's power, explaining how these communities will continue to spearhead philanthropic activities. "K-pop fandoms know how to organize, mobilize and make their voices heard," she explains. "Given the sheer breadth of demographics worldwide that make up K-pop fandom, different lived experiences and by association, struggles and causes increasingly find voice through this vast, shared community on Twitter." Pointing out the philanthropic activities such as "donation drives, spreading awareness through viral hashtags, and fuelling global discourse" fandoms execute, Couto elucidates how the genre has allowed fans to "segue into K-dramas, Korean food, beauty, language" becoming an almost "natural progression."
Given the impressive numbers K-pop has amassed this year, the relationship between the genre and social media automatically becomes an interesting case study for industry professionals who could borrow online community-building strategies from its marketing playbook. As for K-pop and its fans, the numbers and records garnered this year are testimony to the loyalty and digital dominance the groups and fandom communities possess.
Tags: