WEi: The Dawn of a New Identity
The fourth generation K-pop group on their journey thus far, aspirations for the future and love for their Indian fans
Despite having the budgets for over-the-top set designs, costumes, and access to international collaborators, the summit to recognition in the world of K-pop appears to be a steeper uphill battle than before. And why wouldn't it? Groups such as BTS, BLACKPINK, TWICE and many more are making waves internationally, giving a rise to the number of groups that debut per year. Now, with a higher frequency of groups in the market, each drawing inspiration from these success stories, determination and diligence are at an all-time high; making the competition tough.
Despite the complexities of the COVID-19 pandemic, nearly 30 groups debuted in 2020, giving the audience a chance to connect with the dedication and passion of the new generation of artists. Within this mix, standing out from the crowd was WEi– a six-member group weaving stories of brotherhood, perseverance, and triumphs through their music.
Lead by rapper Jang Daehyeon, the members of WEi officially debuted under OUI Entertainment on October 5th, 2020 with the title track "Twilight." This wasn't the members' first brush with the spotlight; Prior to their time as WEi, leader Daehyeon was a former member of the 2017 K-pop rookie group, RAINZ. Vocalists, Yoon Yongha and Kim Junseo were former members of 1THE9, a group formed by the top nine contestants from the survival show, Under 19. WEi's lead vocalist and dancer, Kim Donghan was a former member of the group JBJ, while the group's lead rapper Kim Yohan was a member of the boy group X1 (which would disband just four months after its debut due to a vote manipulation scandal in the process of its formation via the show Produce X 101.) As a former trainee with JYP Entertainment and YG Entertainment, WEi's main vocalist Kang Seokhwa also participated in Produce X 101. After being placed 35th on the show, the singer was eliminated and would go on to share his love for singing as a member of WEi.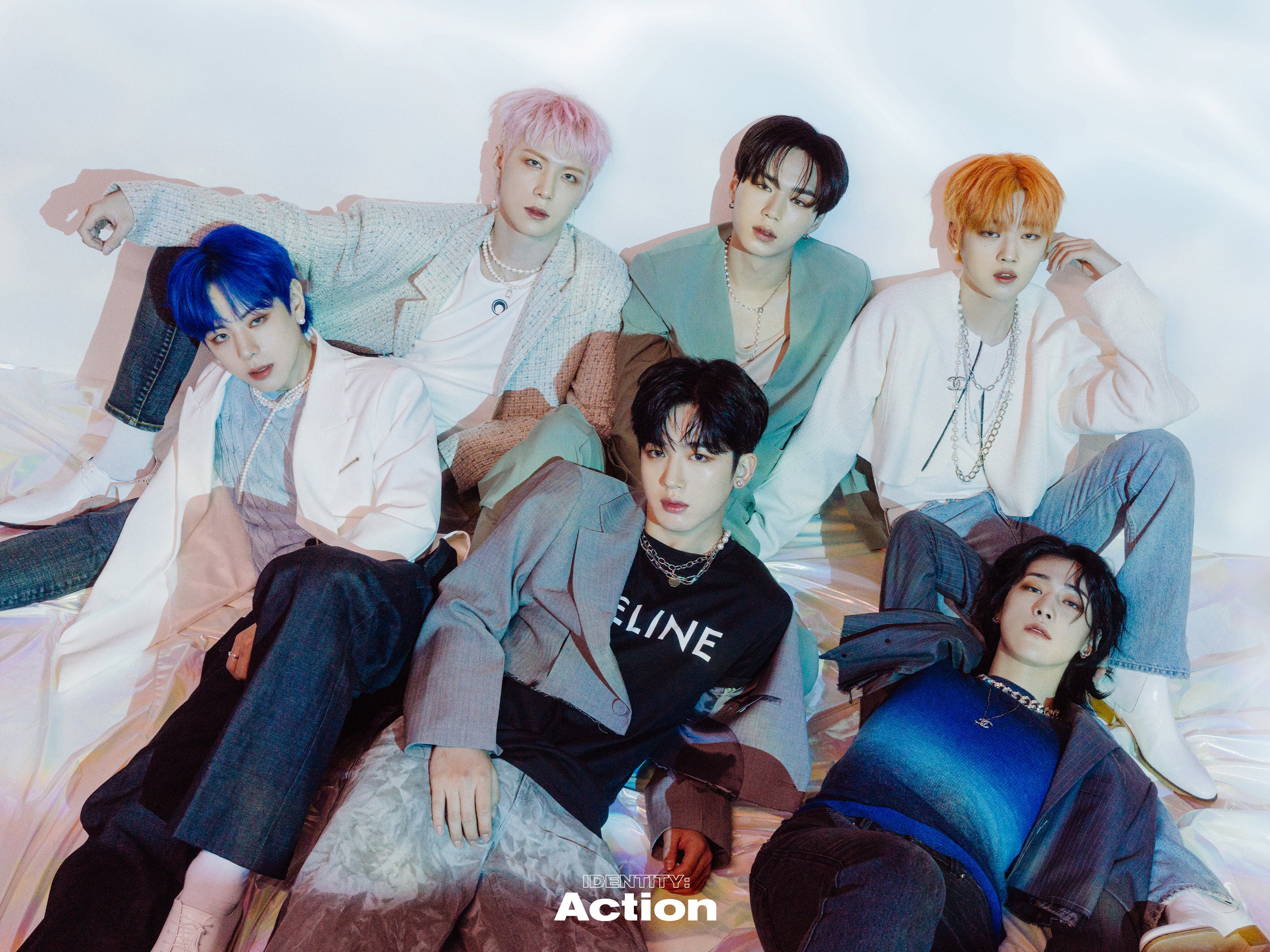 In many ways, WEi's is a story of destiny and determination. Kick-starting their careers in different groups, Daehyeon, Donghan, Yoongha, Yohan, Seokhwa, and Junseo feel they were brought together to serve a larger artistic purpose as WEi. It's the main reason why a rookie group decided to put forward a semi-self-produced debut EP to establish their voice and persona in an already competitive industry. "No matter what the challenge, we felt that our unity was really special because we were together," says Seokhwa. "Above all, our unity is precious."
Identity: First Sight, WEi's debut EP, set the precedent for Identity: Challenge and Identity: Action. When put together, the Identity series narrates WEi artistic journey of overcoming ordeals and challenges to become one unstoppable unit. "I think we've shown another beginning of WEi and our form," says Donghan as he reflects on the group's journey through the Identity series. Yongha agrees, sharing his excitement for the future of the group, "I think we were able to feel a lot of growth and find our identity through this trilogy. So in the next album, I think we will be able to show our unique color more clearly."
The group's latest EP, Identity: Action is a testament to WEi's commitment to development and varied artistic expression. With genres ranging from hip-hop, modern ballads and feel-good pop, WEi go above and beyond in their third EP, giving listeners a look at their artistic bloom and stories that have shaped them. Case in point, the lead track, "Bye, Bye, Bye"– though it's characterized as a summer anthem, WEi discuss heavier themes of letting go of familiarity to pursue one's true desire in life, thus maintaining their pursuit to meaningful storytelling through their music.
In an exclusive interview with Rolling Stone India, WEi sat down to share learnings from their journey thus far, their love for their fandom RUi, and to give us a glimpse into what the future holds for them.
What was the process of bringing this mini-album to life? Could you explain the theme of the album and describe any significant challenges you may have faced?
Daehyeon: The preparation process in a short period of time was a little daunting, but I did my best for RUi.
Donghan: As the last of the Identity trilogy, this EP is filled with WEi's own songs suitable for summer.
Yongha: Our choreography learning and preparation time were a little short, which was a little challenging. Plus, we were preparing to put forward a new concept, which in itself, was a challenge too.
Yohan: For me, Identity: Action tells a story about different personalities coming together to face challenges together.
Seokhwa: As the main vocalist, I put a lot of effort into digesting the high-pitched range.
Junseo: Identity: Action stands for blowing away all our stress and bondage. It was a big challenge because I had to prepare in the shortest time among the albums I have prepared before.
Identity: Action concludes the Identity trilogy. How do you feel about this milestone? What have you learned throughout this journey?
Daehyeon: Throughout the series, we had the opportunity to showcase different personalities and looks. This has given me a better perspective of who I am and what I need to do in order to grow.
Yongha: I think we were able to feel a lot of growth and find our identity through this trilogy. So in the next album, I think we will be able to show our unique color more clearly.
Yohan: I think we found the color of WEi.
Seokhwa: We tried to show a lot of images, and it was the process of finding out what color we should bring in the future.
From Identity: First Sight to Identity: Action, what are some of the fondest memories you've formed during this course of time?
Daehyeon: It was the part where I was able to participate in all the albums and the fact that I challenged different songs.
Donghan: Throughout the Identity journey, I've created fond memories with each member. I think with each EP, our relationship grew stronger. Plus, I really enjoyed the meeting with RUi.
Yongha: Everything is precious from debut until now, but the first day of debut, when we officially became one under the name of WEi, holds a special place in my heart.
Yohan: I had created lots of memories with the members on stage during Identity: Action promotions.
Seokhwa: It was nice to have a few opportunities to meet fans on this album.
Junseo: The most memorable thing was during the showcase of our third album, RUis watched our stage for the first time on set. It was so inspiring.
Compared to the writing process in your debut mini-album, how different were your experiences as songwriters during this comeback?
Daehyeon: I always seem to be careful when writing lyrics and composing, and I thought that I should work harder and write more carefully.
Yongha : I think I wrote the lyrics while thinking more about the stage composition!
Yohan: I've become more mindful and careful when writing lyrics.
Seokhwa: This time around, I believe a more mature song with WEi's color was born.
Right from your debut, you have had the opportunity to play various roles in the music production process. Now, with three mini-albums under your belt, what role do you think best suits your identity? Do you feel more connected with your artistry while producing, writing, or performing on stage?
Daehyeon: Yes, I think I was able to show a variety of different sides of myself and fit well [with the albums.]
Donghan: All albums are precious and all are fun!
Yongha : Well, I hope there will be more opportunities to show our artistry.
Yohan: It felt good to share the beginnings of WEi.
Seokhwa: We tried to show different colors, and we all thought that the music suited WEi.
Every musician faces challenges throughout their career. In your experience, have the challenges you've faced developed your artistry and given you a more clear understanding of the kind of group you wish to become, or do you have a completely different take on this?
Daehyeon: I have grown a lot through composing, writing lyrics and producing, and working hard on things to fix.
Donghan: In my case, I am trying to improve my understanding of dancing and singing.
Yongha: I want to do more popular music. I want to make a song that many people can relate to!
Yohan: As I tried many conversations, I felt a lot about what suits our group well.
Seokhwa: I found out which one can show a more musical side in terms of WEi's music and individual skills.
Junseo: No matter what the challenge, we felt that our unity was really special because we were together. Above all, our unity is precious.
What do you want the audience's perception towards WEi to be, say five to ten years from now?
Daehyeon: I want to become a popular group or a group that many fans are proud of.
Donghan: I want to become a long-lasting group that everyone can like.
Yongha: I want them to reminisce about the days when they first heard our song.
Yohan: Versatile and colorful idol.
Seokhwa: I want to be recognized as an artist with humble and sincere music.
Junseo: A group that is really close to each other, is talented, and has a more promising future.
What were your expectations from when you debuted in 2020 to now? Have the goals you've set for yourselves changed?
Donghan: I hope that the COVID-19 will end soon and there will be more opportunities to meet RUi.
Yongha: I want to continue working as WEi.
Yohan: I hope that WEi will be known to the public around the world.
Seokhwa: I want to become a humble singer who always introduces WEi to the public and introduces K-pop to the world.
Junseo: There are countless things I want to achieve, the first thing I want to do is win first place on music shows.
Daehyeon: Let's be healthy and happy for a long, long time!
How do you see WEi's sound evolving from here on? Though you have a long and exciting road ahead, do you have any themes or genres you'd wish to explore?
Daehyeon: I plan on growing by maximizing what I am good at and continuing to take on challenges.
Donghan: I want to try a sexy concept later.
Yongha: I really want to try a ballad song too!
Yohan: After a while, I want to try a sexy concept as well.
Seokhwa: In the future, I want to make music that is easier to listen to and enjoy.
Junseo: I also want to work on a song with a general concept. I once covered BTS seniors' "Spring Day." RUi liked it a lot, and the people around me responded well. I think it might be one of the concepts we fit in.
Do you have any messages for your Indian RUi?
Daehyeon: Indian RUi!! I miss you so much I know that you are cheering me on from afar as I can't see you because of COVID-19. That's why we'll show you a lot of prettier sides too. I love you.
Donghan: I want to go to India as soon as COVID-19 is over and meet RUi!
Yongha: Indian RUi, I hope things get better, and we can meet soon! Love you!
Yohan: When the situation improves, I want to meet and communicate and perform as soon as possible. I love you. Thank you for waiting.
Seokhwa: I want to see you soon, but it's a pity that things don't work out yet, and thank you for always supporting me.
Junseo: I want to visit India and I want to meet you in person and say hello. I look forward to the day we meet. Thank you.
Tags: